Wanting to be in line with Body and Mind?
Dealing with chronic injury or health issues?
Looking for an Integrative Health Solution?

Therapeutic Yoga sessions focuses on individual needs working with Mental and Physical health conditions. The sessions are personally crafted to suit the need of the individual. Conditions Michael can work with (not limited to) are:
Yoga Therapeutics for the Heart (Stroke, Post Cardiac Surgery, Arrhythmia)
Yoga Therapeutics for Cancer (currently in treatment, pre/post treatment)
Yoga Therapeutics for Mental Health Disorders (Depression & Anxiety)
Yoga Therapeutics for the Pelvic Floor (Incontinence urinary/Bowel)
Yoga Therapeutics for Arthritis (Osteoarthritis, Rheumatoid)
Injuries/Post Rehab(Feet, Ankles, Knees, Hips, Lower Back, Upper Back, Shoulders, and Neck)
Neurodegenerative Diseases (Parkinson's, Multiple Sclerosis)
Spine Health (Herinated Discs, Osteoporosis/Osteopenia, Scoliosis, Stenosis, Spondylolisthesis)
All Private Yoga Sessions are conducted in Fort Lauderdale or Online via Skype/FaceTime
Yoga therapy is the process of empowering individuals to progress toward improved health and well-being through the application of the teachings and practices of Yoga.
IAYT Educational Standards for the Training of Yoga Therapists
Read more about Yoga Therapy in the news!
Ancient Moves for Orthopedic Problems-New York Times
Why Western Doctors Are Now Prescribing Yoga Therapy-Yoga Journal
Recovering From Surgery or Stress? Yoga Can Help-CNN
Video on Yoga Therapy and Low Back Pain
What is Yoga Therapy?
Private Yoga Classes
Group and private Yoga sessions, classes can range from Vinyasa, Ashtanga, Gentle, and Yin. The practice of Yoga helps you to become not only flexible in the body, but Yoga has many healing qualities as well. Mental clarity and focus comes from a consistent practice. So it is great for the body and the mind.

Yoga Teacher Training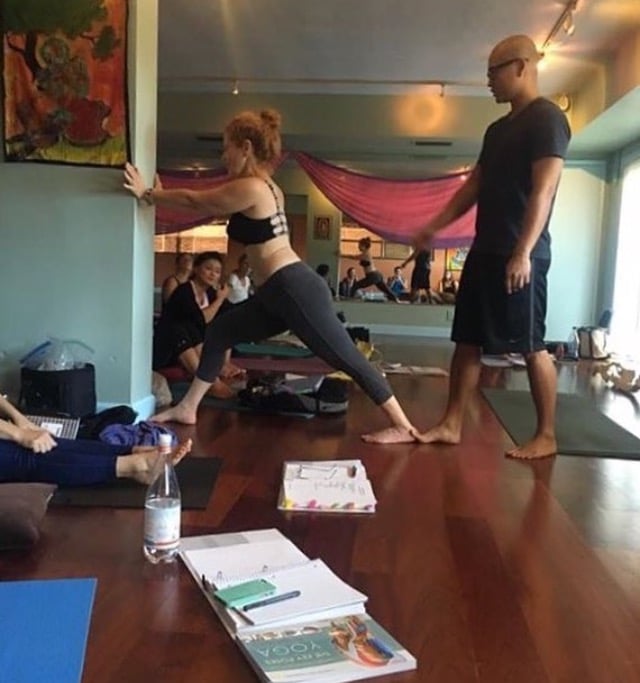 Michael is a supporting teacher for the Aananda 200 Hour  Yoga Teacher Training program focusing on the Anatomy portion of the training. Next training starts soon. Click link above for more information on how to register.
Michael also teaches Business of Yoga at AUM Home Shala